Viber: Free Calls Conquer the Globe
Audience: 250 million monthly, active users
Top Markets: Russia, India, Iran, Australia, Middle East
Demographics: Majority of users aged 25–35
Key Features: Public Chats, texting, phone and video calls, stickers, games, service messages.
Founded in late 2010 by a team of two Israelis and two Belarusians, Viber is a formidable competitor to Skype that initially offered free calls and texting on the mobile web. By September 2015, the app hit 250 million monthly, active users, boasting strongholds on multiple continents and an expanded suite of features like stickers and games.
Publishers joined the conversation in November 2014 with the launch of Public Chats, a format whose name accurately describes its functionality. News organizations on the platform generally utilize Viber to broadcast text-based group discussions between their team members to the web in real time.
For the community, Public Chats is a spectator sport without the ability to post comments, but users can click heart icons next to individual chat moments to express their excitement. For publishers, each individual chat participant can easily share photos, video, stickers, and links from mobile or desktop. It's also a completely painless process to add or remove participants as you go.
HuffPost Entertainment Team Lets Loose on Public Chats
For all of Viber's charm, it can reveal a palpable self-consciousness as journalists trained to write articles or post to Twitter are asked to text message publicly. But, as HuffPost Entertainment proves, with the right mix of uninhibited colleagues truly letting loose in conversation, the results can be engaging and entertaining in a way that creates a heightened degree of intimacy between reporters and their audiences.
Lauren Zupkus, social media editor at HuffPost Entertainment, admitted that her initial reaction to the platform was, "Who the hell is gonna care what I have to say?" But to her surprise, 10,000 "Vibers" signed up to watch her team discuss Kylie Jenner and Game of Thrones, or debate the merits of fall compared to summer. "We're not striving to cram HuffPo articles down people's throats. I think the weakest thing you can do on social media as a brand is try too hard…I think it's cool that we can be ourselves," she said.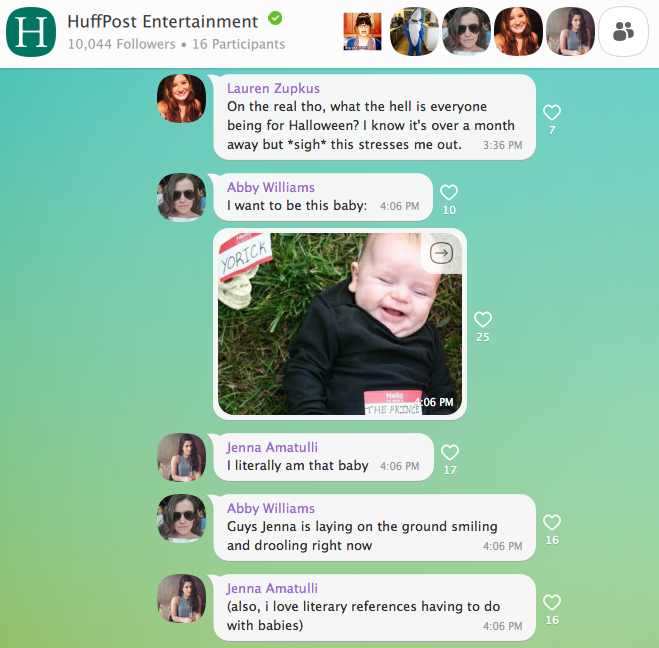 Each day the HuffPo Entertainment team has a private chat to determine the topics for the day's public one, though they never script conversation. Zupkas described the entire process as something you do "in free moments," making it less resource-intensive than Snapchat My Story posts. The team has also started promoting its Public Chat by closing articles with the statement, "For a constant stream of entertainment news and discussion, follow HuffPost Entertainment on Viber."
Viber's head of North America Scott Nelson confirmed that HuffPost's consistent activity yields the strongest results:
While it doesn't need to be a constant flow of minute-by-minute information, the most successful chats update daily. Not only does this keep the content fresh and engaging, it also ensures that their chat stays at the top of the listings in users' phones, keeping them front of mind.
Other publishers on the platform include BuzzFeed; GMA News; Mashable; and BBC Nepali, which leveraged the app to deliver alerts to a large audience in the country during the recent earthquake crisis.