Kik: Messaging App for Teens Goes All-In on A.I. Chatbots
Audience: 80 million estimated monthly, active users
Top Markets: North America
Key Demographics: 82 percent of users are aged 13–24
Key Features: Chatbots, web browser, texting, stickers and emojis, games.
When Kik's 27-year-old CEO Ted Livingston declared his intention to be "The WeChat of the West" in a November 2014 blog post,12 it was more than a casual nod to influences. By mid-2015, Livingston was in business with WeChat's parent company Tencent, taking a $50-million investment and enlisting the Chinese tech giant's help in replicating its success outside of Asia. The union also signaled WeChat's recognition that buying a piece of a successful North American messaging app was a better bet than continuing with an expensive and fruitless attempt to break into the U.S. market.
Founded in Waterloo, Canada, in 2009, Kik went viral with one key, differentiating feature: Users don't need to provide their mobile number to open an account. This anonymity led to mass adoption from people looking to connect with not only friends and family, but also with strangers they meet online or within the app itself. Kik positions itself as a mobile browser for the web, allowing users to access and share content and websites, or build custom HTML5 experiences that can be viewed and shared within the app.
Claiming on its website that 40 percent of U.S. teens and young adults has installed the app, Kik has enticed news organization eager to reach a young North American audience.13 As of November 2014, publishers could leverage Promoted Chats—an A.I.-powered technology that The Wall Street Journal dubbed "the dawn of 'chatvertising"'14—the premise of which is that users have one-to-one text conversations with a bot programmed with scripted answers based on keyword recognition.
Dozens of companies like BuzzFeed, The Huffington Post, VICE, Comedy Central, MTV, Spotify, Funny or Die, Nike, NBC News, and The Washington Post have tried their hand at Promoted Chats, typically paying $0.20 to $0.30 for each "chatter" that opts in to speak to them. Companies can send four push notifications per month to their entire chatter audience, and Kik claims 50 percent of brand push notifications are read within one hour of delivery. Publishers can also prominently feature their website or custom Kik web app link within Promoted Chat, which opens in the Kik browser.
Care to Speak to The Washington Post Chatbot?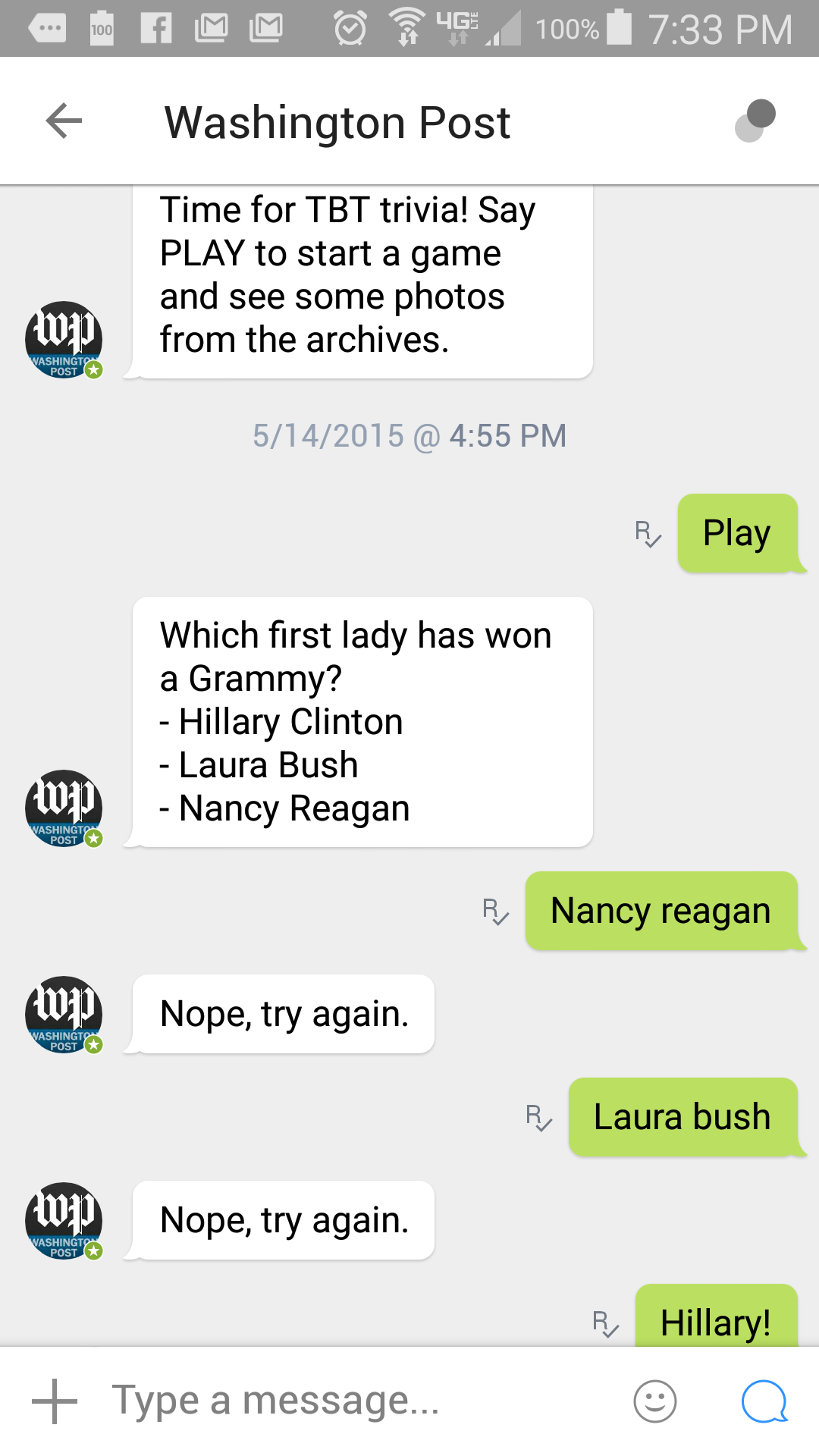 Some organizations share articles to drive traffic to their website, while others, like The Washington Post, favor engaging users through games, quizzes, and chat adventures that live within Kik and have little to do with current events. At its launch on the platform, The Post introduced "Kiktionary," in which users are shown a partial illustration of a political figure and have the option to guess who it is, or type "GIVEUP," "SEEMORE," or "ENDGAME."
On a second occasion, The Washington Post sent a push notification stating, "Trivia time! Want to LEARN or PLAY?" to lead users into a quiz highlighting Hillary Clinton's status as a Grammy winner. The most successful Washington Post conversation starter asked users to take a virtual road trip to a destination of their choice.
Ryan Kellett, The Washington Post's director of audience growth, said:
I'd keep in mind that we are still developing what our strategy should be. We aim to design experiences that are surprising and useful, which means pushing the platform (and in this case, the bot) to its limits…We do read through some of our individual user conversations. It helps us get a sense of where we might be missing something in designing the bot experience.
When you see the words "Washington Post is typing…" as you await a chatbot response, it should be clear to users that they're befriending a robot. And in less than a year, 16 million Kik users have chosen to do just that, exchanging half a billion messages with Promoted Chat accounts.
Kik actively plans to greatly expand the capabilities of bots. "We believe chat will become the dominant interface that connects the digital and real worlds through more sophisticated A.I. executions like bots," said Paul Gray, Kik's director of platform services. "We're only at the tip of the iceberg."
For its part, The Washington Post remains cautiously optimistic. "Chat apps including Kik have incredible potential, and we're just starting to play in those spaces," said Kellert. "But it's too soon to tell where they'd rank in terms of platform importance."