Snapchat: The New Home of Sexting…and CNN
Audience: 100 million daily, active users globally
Top Markets: North America, Europe
Key Demographics: 13–34-year-olds
Key Features: Disappearing messages, Discover, crowdsourced Live Story montages, My Story daily montages, QR codes, location-based geofilters, Snapcash peer-to-peer payments.
Founded in 2011 and initially synonymous with sexting,20 Snapchat rapidly evolved into a mainstream global phenomenon by introducing ephemeral messaging to teens and college students. While Instagram, Twitter, and Facebook present a more coiffed and manicured version of users' personas, Snapchat has become an outlet for people and publishers to provide a raw, behind-the-scenes glimpse into their day.
My Story is the tool available to most publishers and compiles a chronological montage of your snaps from the last day, with each snap disappearing after 24 hours. It looks and feels like one-to-one snaps from a friend, but is viewable by any user that follows your account. All content must be shot live with your phone, lending a rawness and immediacy to the end result. You can also text, draw, or place emojis of any size on top of your snaps.
The New York Times Embraces the Selfie
In a blog post, The New York Times's social editor Talya Minsberg admitted that "envisioning what The New York Times could look like on Snapchat was tricky.21 How could a traditional media company fit into a medium known for bad selfies?"
The Times has primarily experimented with My Stories as a new way to cover live events, with a variety of staff journalists helming the account for stretches of time. Pieces regularly juxtapose selfie standups from reporters with footage of the occasion. In some instances this includes long-form interviews with public figures, such as when Laverne Cox gave The Times an interview exclusively on Snapchat as a lead-up to her TimesTalks event, which was also covered in the My Story. Other events have included the Met Gala, Fashion Week, the AfroPunk Festival, and the Pope's visit to New York.
"The best Snapchat stories generally are ones that tell a narrative in a personal, visual way that pulls in and keeps the viewer," wrote Minsberg, who went on to quote her colleague, news assistant and web producer Valeriya Safronova:
What's great about Snapchat is that it's a casual and playful medium. Images have short life spans and viewers look through them very quickly, so there's no need to carefully stage a photo or video. Candid moments are prized above staged shots.
When it comes to measuring My Story success, publishers have access to fairly limited information, viewable only on mobile. During the lifespan of a 24-hour My Story, they can see how many people watched each snap, which also lets them deduce drop-off. Publishers can view the number of users that took a screenshot of their story and can access a list of people that have added their account. For those looking to bolster their followings, Snapchat also allows for the creation of a custom QR code that users scan within the app to automatically follow an account.
CNN Courts Millennials With Bespoke Daily Content on Snapchat Discover
Snapchat launched its Discover platform in early 2015.22 As one of the most eagerly anticipated product launches for some time in the media industry, excitement was matched in equal measure by curiosity and skepticism about the app's new section—devoted to channels curated by a small group of launch partners.
In his "Introducing Discover" blog post, CEO Evan Spiegel took social networks to task for the rise of clickbait culture:
This is not social media. Social media companies tell us what to read based on what's most recent or most popular. We see it differently. We count on editors and artists, not clicks and shares, to determine what's important.23
Snapchat claims to have 100 million daily users, and a Snapchat represenative said that in the first 30 days after a design change made Discover easier to navigate, 50 million users visited the section specifically.24
There have been suggestions that traffic to Discover has fallen since its initial launch. However, partners with whom we spoke claim to have noticed a marked increase since the section was made more visible to users in July of 2015. BuzzFeed's CEO Jonah Peretti stated in September that 21 percent of all BuzzFeed content views now come from Snapchat Discover.25 Cosmopolitan announced similarly high numbers for its Discover page—roughly 3 million daily readers and up to 1.2 million daily content shares.26 Those are likely among the highest-performing partners, as others we spoke to, who were not able to provide figures publicly, told us they are seeing in the range of 500,000–700,000 daily users.
Among Discover's high-profile launch partners was CNN. Samantha Barry, head of social media and senior director of strategy at CNN, worked with a small team for several months to get the outlet's proposition for the platform ready ahead of going live in January of 2015. She told us in an August 2015 interview:
It brought together people from editorial, design, and product—three parts of the organization that don't necessarily always work that closely together. We effectively formed a small startup operation and tried to figure out how do we tell stories on a platform that is truly native and bespoke to it? It was a new way of storytelling that we had to understand.
A team of four, including two designers and two producers, now works full time on CNN's Snapchat channel. In addition, the product team provides support as and when required. All the content is made to order, partly to suit the vertical screen experience for users inside the app.
Barry said the CNN Snapchat channel has evolved significantly since its initial inception, as its team has performed constant iterations based on audience feedback and after measuring engagement on a range of content.
The Discover section offers a very different environment from the "regular" Snapchat experience, and media organizations generally handle it uniquely from standard social media accounts. Discover is more like a magazine made for the millennial mobile generation, said Barry: "In some ways it's a throwback to old media. The user chooses to go in; we curate the content they see in the same way as a newspaper did. They experience it in much the same way as a traditional TV schedule."
So how does Barry measure success? While she couldn't reveal numbers, she said the audience figures have been beyond what she could have hoped for. Based on the data Snapchat can provide, CNN is able to measure average time viewed, conversion rates, and shares.
And what content has worked the best? To date, CNN has published more than 1,000 stories on Discover. Light stories and treatments are certainly part of the mix, but despite what many might assume, serious stories have also performed remarkably well.
Barry listed several examples:
"Raising Ryland," a 12-minute short documentary on a 5-year-old who is transgender; features on race relations and gender equality; a special Discover edition focusing on the poor children of Silicon Valley; and "Hunting Ground," a series that tackled the issue of campus rape.
"Don't assume they know the background to the story" is one golden rule that Barry's team follows when creating content.
Though Snapchat Discover doesn't allow links or any means for taking users back to CNN's website, Barry has seen evidence that Snapchat users do visit CNN's main TV channel as a result of Discover: "We've come across examples where parents get called by their kids to TiVo a particular CNN documentary because they have seen it trailed on our Discover channel," she said.
Snapchat's Peter Hamby Delivers Crowdsourced News and Selfie-Standups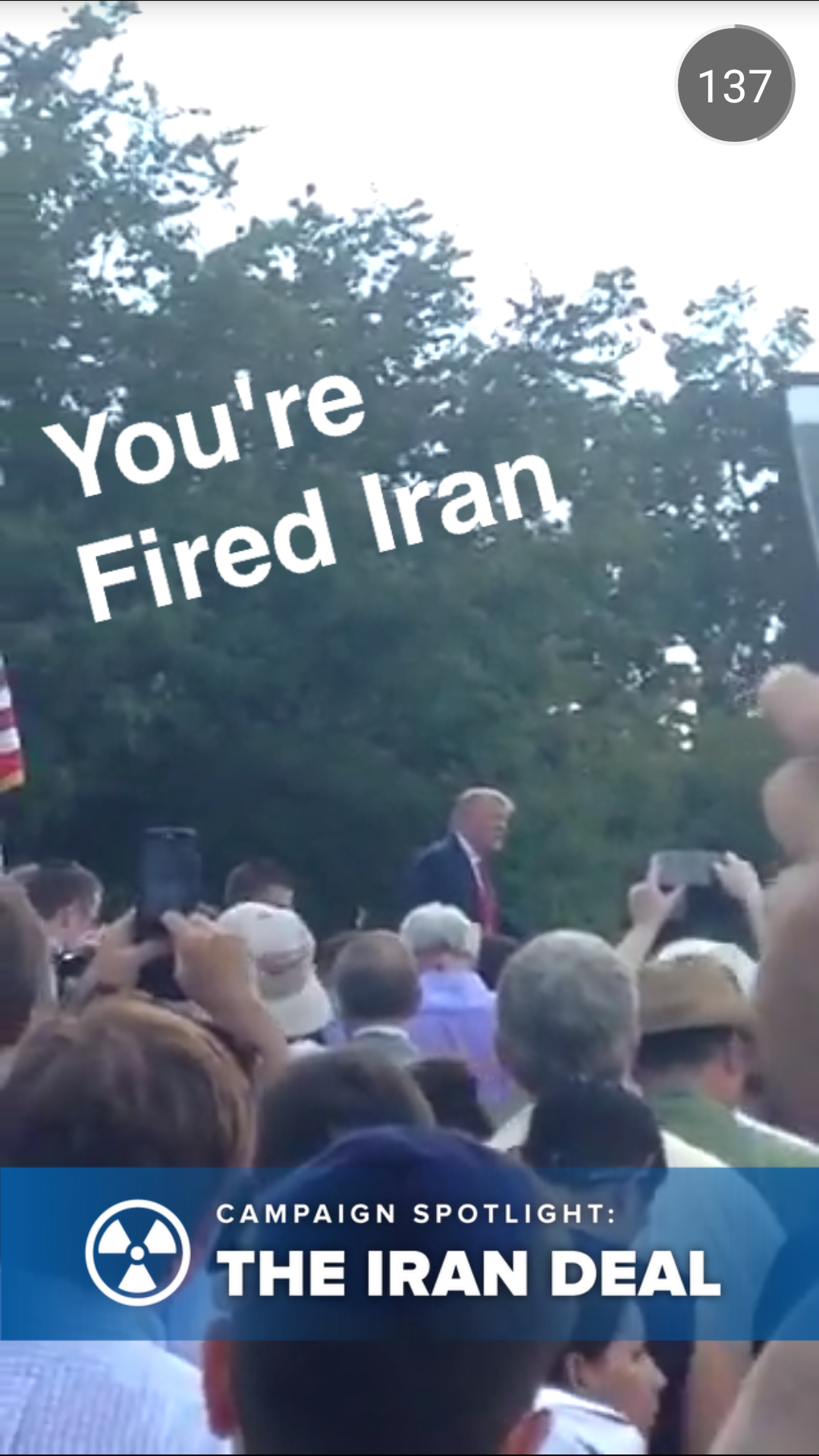 In June 2014, Snapchat launched Live Stories, a game-changing product that crowdsources snaps from major events into curated, mini-documentaries visible to the broader Snapchat community. Users in a particular geolocation see an option to submit their posts to Live Story, and the Snapchat team then creates a montage highlighting various vantage points and experiences.
The most popular Live Story to date featured Snapchatters' experience of a storm dubbed "Snowpocalypse." At roughly 200 seconds in length, the clip was viewed 24.79 million times in a 24-hour period, a viewership that outpaces the most popular network TV shows. Over time, Snapchat introduced stories like "Holi in India" and "Namibia" that give glimpses into the cultures and traditions of cities and countries many users knew little about.
From a newsroom perspective, Live Stories took an interesting turn when Snapchat hired news veteran Peter Hamby away from CNN in April of 2015. With the U.S. 2016 election cycle moving into full swing, Snapchat began inserting Hamby standups into crowdsourced election stories to give users context for major events like GOP debates.
"The people that are on Snapchat right now are folks who…aren't getting news and information in traditional ways…they're not watching TV, cable news, reading newspapers," said Hamby in a podcast for KUT News and The Texas Tribune. "It's a hard-to-reach, young but still smart audience, and my job this election is to…educate and demystify the process for an audience of a hundred million Snapchat users who might be coming to the campaign for the first time."27
Stories also began to feature educational overlays with illustrations of politicians and brief descriptions of their keys positions on the issues.
In a story covering debate over the Iran nuclear deal, Snapchat broke down the key players on both sides of the aisle for a likely audience of millions.
Hamby pointed out that young Snapchatters took to Twitter to announce that they hadn't known the ins and outs of the Iran nuclear debate before learning about it on Snapchat.28



There are, of course, users who are less enthused to see Snapchat delve into politics.

In other instances, Snapchat has enlisted the major politicians themselves as UGC contributors, offering users a behind-the-scenes look at Hillary Clinton in her car or Arnold Schwarzenegger en route to an event. In a particularly memorable moment, Democratic hopeful Bernie Sanders addressed the Snapchat audience with a friendly "Hello, Snapshot!"
While it's hard to assess the scope of Snapchat's newsroom ambitions, it clearly sees itself less as a social media platform than as a video and media company with social layers. In his KUT interview, Hamby enthusiastically described the difference between network news coverage and Snapchat's crowdsource-and-curate approach:
When I was at CNN we would cover an event with a couple of cameras…with the live story we can cover an event from many different perspectives with everybody's camera, in some cases thousands of cameras—and that's really powerful.29