Introduction: The Dawn of the Social Messaging Era
"The social media phase of the Internet ended," declared Fred Wilson—a leading venture capitalist and early investor in Twitter, Foursquare, and Tumblr—in his 2014 "What Just Happened?" year-in-review. He continued:
Entrepreneurs and developers still build social applications. We still use them. But there isn't much innovation here anymore…messaging is the new social media…families use WhatsApp groups instead of Facebook. Kids use Snapchat instead of Instagram. Facebook's acquisition of WhatsApp in February of this year was the transaction that defined this trend.1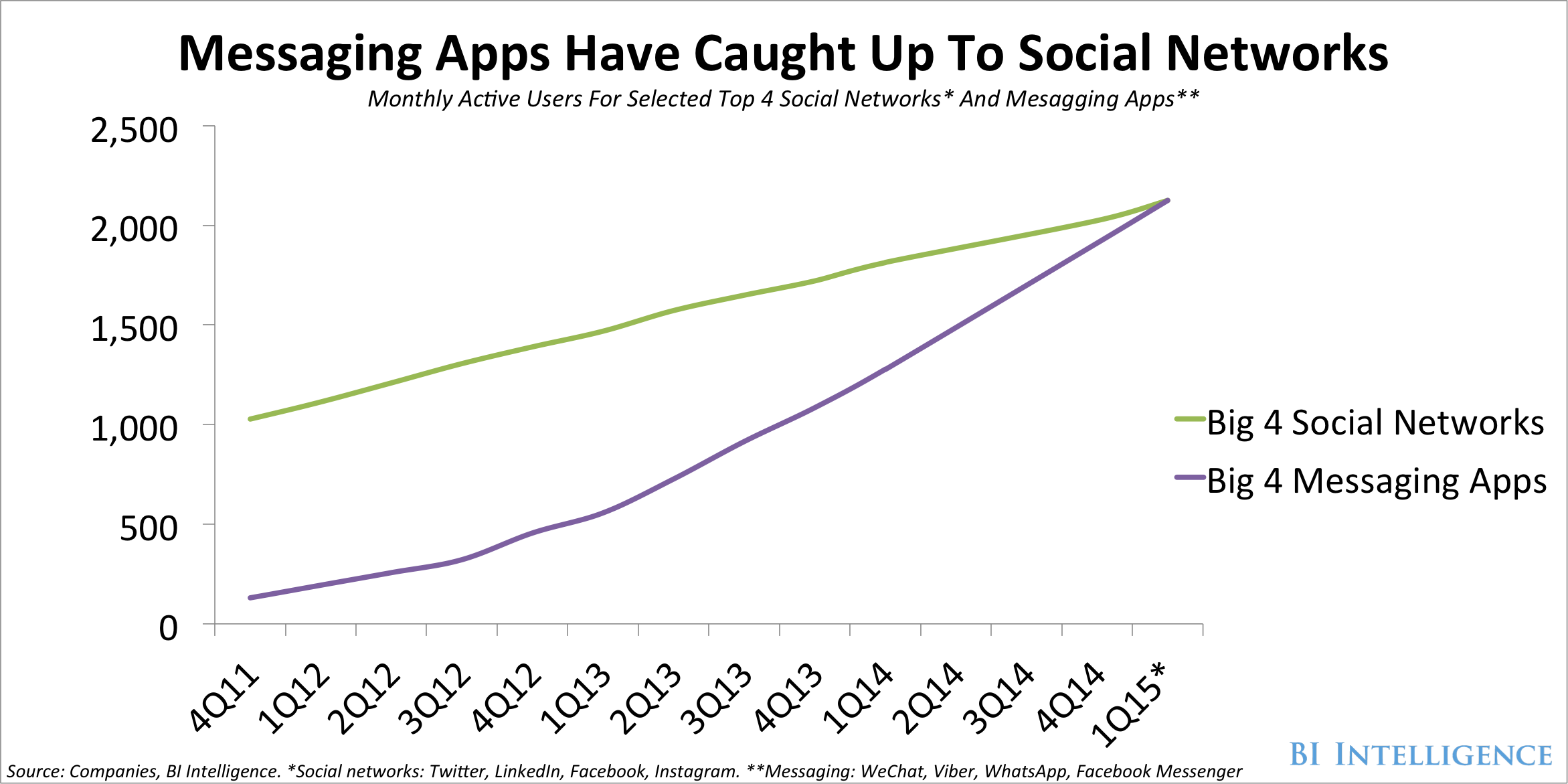 While Wilson's views may be surprising to some, statistics support them. Business Insider Intelligence released an infographic in April titled "Messaging Apps Have Caught Up to Social Networks," indicating that major chat apps (WeChat, Viber, WhatsApp, and Facebook Messenger) now have more combined users than the top social networks (Twitter, LinkedIn, Facebook, and Instagram).2 And according to Mary Meeker's "Internet Trends 2015" report, messaging apps make up 60 percent of the top 10 global apps by both usage and number of sessions.3
Like any presumed overnight success, WhatsApp's rise was actually part of a broader movement that took years to coalesce within a zeitgeist moment. Facebook's $22-billion purchase of the app merely marked the day that everyone, even those with limited interest in technology, learned that the era of social messaging had arrived.
Any user now downloading the world's 10 biggest chat apps for the first time may be struck by their similarities. Dig deeper into their histories, though, and you'll see that each company conquered the globe with one unique, core innovation before incorporating some of its competitors' strongest ideas: LINE popularized stickers, Viber perfected free mobile calling, Snapchat invented ephemeral messaging, Kik pioneered mobile chat anonymity, Telegram supplied chat encryption, Tango delivered mobile video chat, WhatsApp introduced the simplicity of free texting, and WeChat created the messaging app as mobile web portal. Facebook Messenger, for its part, forged an amalgam of all those apps, and now looks to differentiate itself with the introduction of M, an artificial intelligence chat assistant.