Gawker Media
Gawker Media, a company operating a network of single-subject blogs, promotes its SecureDrop system with considerable bravado. Each day, an automated post lists the various channels through which a source might choose to contact them:
Don't forget: You can email us tips at [email protected], call them in at 646-470-4295, send them directly to any of our writers, or use our anonymous SecureDrop system.
John Cook, executive editor of Gawker Media, said that adding SecureDrop to this post was a natural extension of their usual efforts to gather material from readers:
That was always there just to get tips through email or our phone tips line. So this was a daily post that went up—we call them blips—that go up in the daily flow of the site just to remind people how to contact us, how to send us tips, and so when we got SecureDrop set up and installed we added SecureDrop to that blip across all the sites just to remind people that it's there.
Cook admitted that Gawker's SecureDrop is particularly prone to unwanted and often grotesque submissions. "Aside from people sending us cat videos and stuff, we do have an army of very dedicated trolls coming after us." Cook added that this class of submission is "probably pretty unique to Gawker, or at least more energetic when directed at Gawker."
According to Cook, who worked at The Intercept before returning to Gawker Media, his staff has an established routine to check SecureDrop for promising tips. "We have three people who are trained on checking it," he said. "They check it and then write up an email report every day about what's in it, and send it around to a limited group. And then we just go from there on what to pick up on, and who to respond to, and who to communicate with."
Cook added: "We just treat these as tips and farm them out to people who are available and suited to pursue the story."
When asked about the character of the useful tips in its SecureDrop, Cook said that they receive a "healthy variety of material," but that the bulk of journalistic material tends to be directed at "Gawker" itself, its sports blog "Deadspin," its feminism blog "Jezebel," or its automotive blog "Jalopnik."
Asked whether the platform has proved useful as a reporting tool, Cook said yes, and elaborated that his staff has been working on a long-running and potentially promising investigation based on a tip from SecureDrop: "The best one—which I wouldn't feel comfortable talking about—is something that we're still working on, and it's been a long-term thing, but I don't want to talk about it."
Like many publications, the number of Gawker reporters registering public encryption keys jumped in recent years, noticeably in the months preceding its installation of SecureDrop. Although a total of fourteen Gawker employees are on the MIT key server, Cook said that only about five of them use encryption regularly.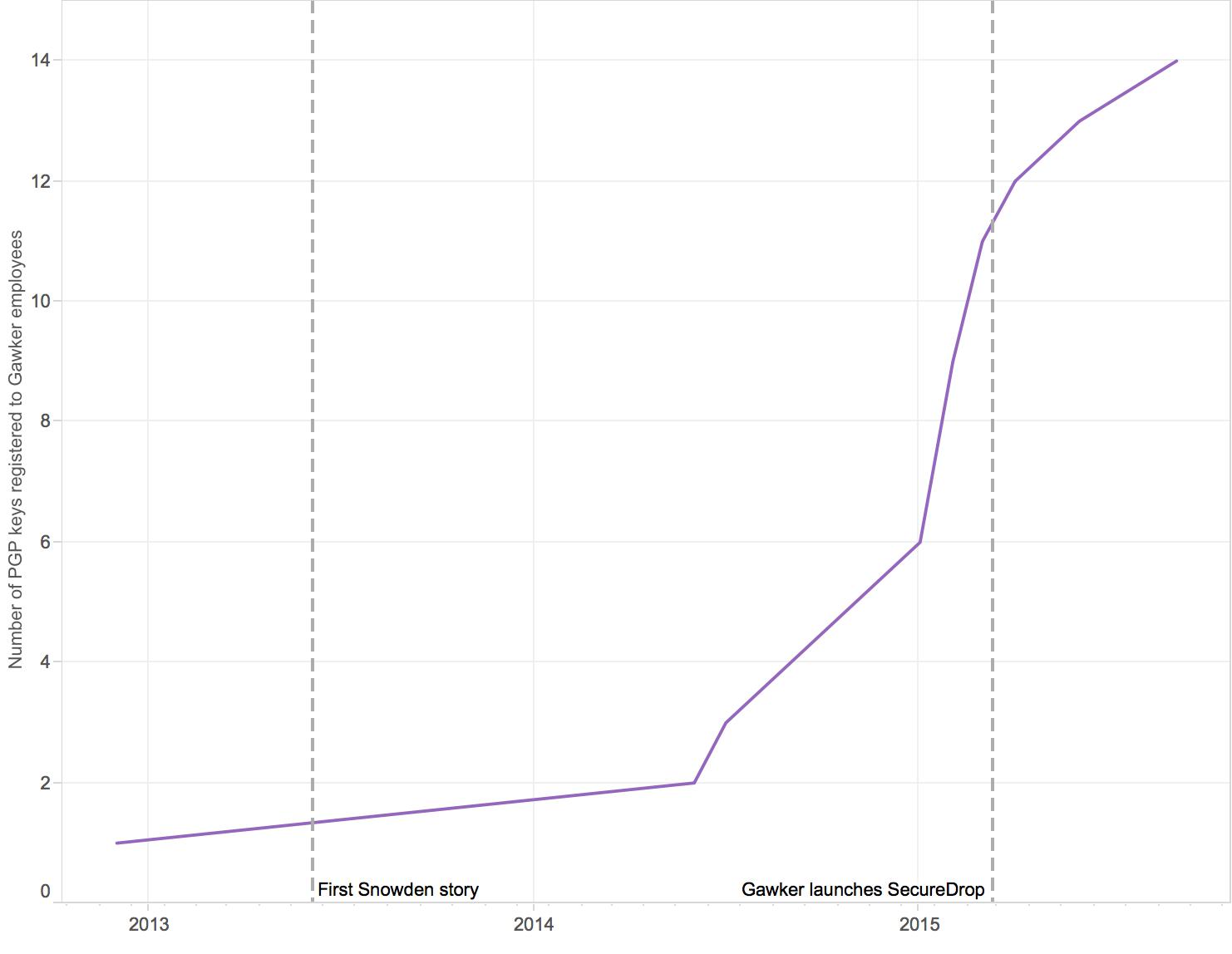 Number of public key registrations over time at Gawker.